Dubai 2017
AED 245.00
AED 445.00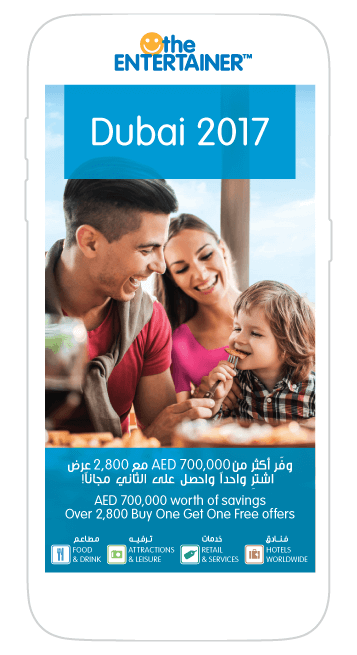 Whether you're looking to ski in a mall, brunch every weekend or splash around at a waterpark, there is something for everyone in Dubai 2017!
Enjoy over 2,800 Buy One Get One Free offers
At Cafes, Nightspots, Casual Dining, Retail & Services, Informal Dining, Attractions & Leisure
Plus over AED 700,000 in savings
Over 500 offers for hotels around the world
PROMOTIONAL OFFER
Buy today and enjoy Dubai Body 2017 or Cheers Dubai 2017, absolutely free! Offer valid with purchase of digital product only.
Choose the App for even more
Go on the perfect holiday and enjoy Buy One Night Get One Free offers at Hotels Worldwide. Choose from hotels and resorts across the Middle East, Asia, Indian Ocean, Europe and North America.

New and Monthly Offers
Enjoy exclusive access to additional Buy One Get One Free offers on brunches, theme nights, spa treatments and more every month when you buy any digital product.
Customers who bought this also bought: